So you want your child to feel more self-assured. Unfortunately for our quick fix-it minds and weary hearts, higher-order self-confidence comes from intrinsic motivators. What does that mean? Think of the quote: 
Praising our children is a beautiful, but temporary fix to what could be much larger, deeper issues in doubt, fitting in or identity. 
In the blog post How to Boost Your Child's Confidence, you can find a variety of engaging activity ideas on how to do this, but today we'll be going through our current top 10 favorite children's book read alouds on the topic of confidence.
Incorporating picture books intentionally and consistently throughout our programs are helpful tools to model positive self-talk and resilience. 
The books I've chosen cover some of the following topics:
∙ Staying true ourselves in the face of peer pressure
∙ Being honest and responsible for our actions
∙ Being resilient and overcoming mistakes
∙ Embracing our diversity with pride
-
 About: 
Zero feels entirely hollow inside as she sees how much fun all the other numbers have counting. She tries desperately to fit in, until she looks at herself from a new perspective: "I'm not empty inside, I'm open!" and sees her value for what it truly is.
-
 About: 
Lily May storms home and melts into bed after being teased for wearing high heels to school. It takes a book about an absurd world where everything is the same to remind her that our differences are what paint the world a much more beautiful place. The whimsical illustrations and scrumptious rhyme make it such an engaging read aloud for any age.
Bonus: At the back of this book, there are beautiful mindful breathing activities to help the reader feel empowered and regulated. 
You can watch the book trailer here.
- 
The Proudest Blue
by Ibtihaj Muhammad 
 About: 
A stunning, poetic book about identity and the power of unbreakable sibling bonds. Faizah could not be more excited for her sister Asiya's very first day of school. She admires her beauty in her bright blue hijab. When other children show confusion or ignorance towards her beautiful hijab, Asiya recalls her mother and sisters' words in order to face the day with pride and strength.
-
Be You! by Peter Reynolds
 About: 
This book is a celebration of individuality with powerful, poignant one-liners that serve as a road map to showing up unapologetically.
"Be adventurous! Live a big life!
When you are ready, step outside your comfort zone.
Bravely explore new paths and see where they lead you."
-
You Matter by Christian Robinson
 About: 
This is such a heartwarming ode to embracing our differences and a powerful reminder that regardless of what size you are or how busy life gets- you matter.
-
Eyes that Kiss in the Corner by Joanna Ho
 About:
A stunning, lyrical journey about heritage and pride. The author and illustrator seamlessly blend traditional symbols into the pages as they drive home a message of the legacy of family bonds.
-
Giraffe's Can't Dance by Giles Andreae
About:
Encouraging children to dance to their own tune, this is a classic story about a giraffe who could not dance until he left the noise of other opinions to seek a mindful moment to himself (& a musically-inclined cricket). It is in this environment that he learned to express himself in his own way.
-
I Am Enough by Grace Byers
 About:
An empowering story which compares a child's self-assuredness to the resilience and magnificence of natural elements.
"Like the trees, I'm here to grow.
Like the mountains, here to stand."
-
What's my Superpower? by Aviaq Johnston
About:
Nalvana is in awe of all the 'superpowers' of the friends in her community. She races home to tell her Anaana of all the extraordinary things she witnesses throughout the day but feels deflated that she does not share the same talents. In the end, Anaana proudly brings to light that her superpower has been recognizing the best in others all along.
Bonus: Includes an Inuktitut glossary which would be the perfect addition to a Global Communities social studies unit.
-
It's Okay to be Different by Todd Parr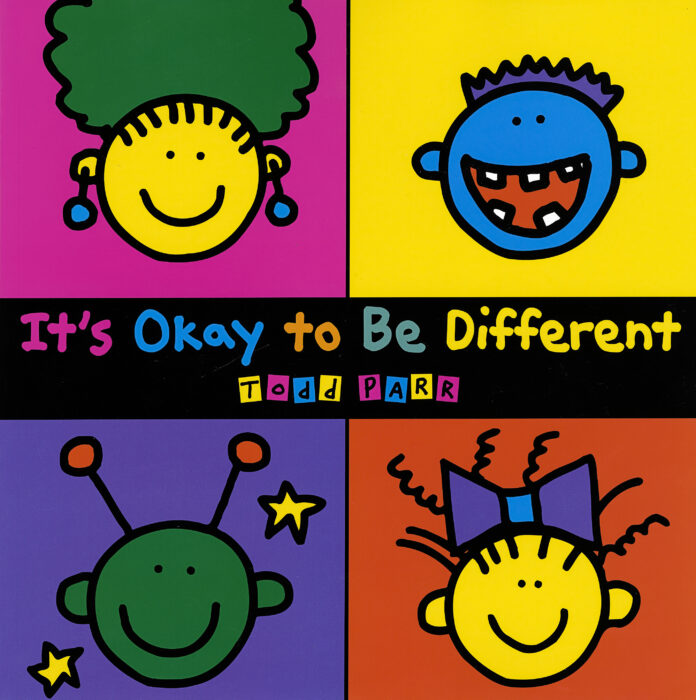 About:
Another colorful anthem by Todd Parr to encourage us take pride our eccentricities:
"It's okay to eat macaroni in cheese in the bathtub"
with a perfect, balanced blend of big topics:
"It's okay to talk about your feelings.
It's okay to be adopted."
_
I hope your children have loved these books as much as I do!

Tell me in the comments below:
What is your favorite book to celebrate individuality & promote self-confidence?
With love,